Enjoy relaxing by the water on a sturdy, safe, and comfortable dock in Coats, Fuquay-Varina, Holly Springs, Apex, And More Of North Carolina
Scroll down to discover dock construction options, process, and pricing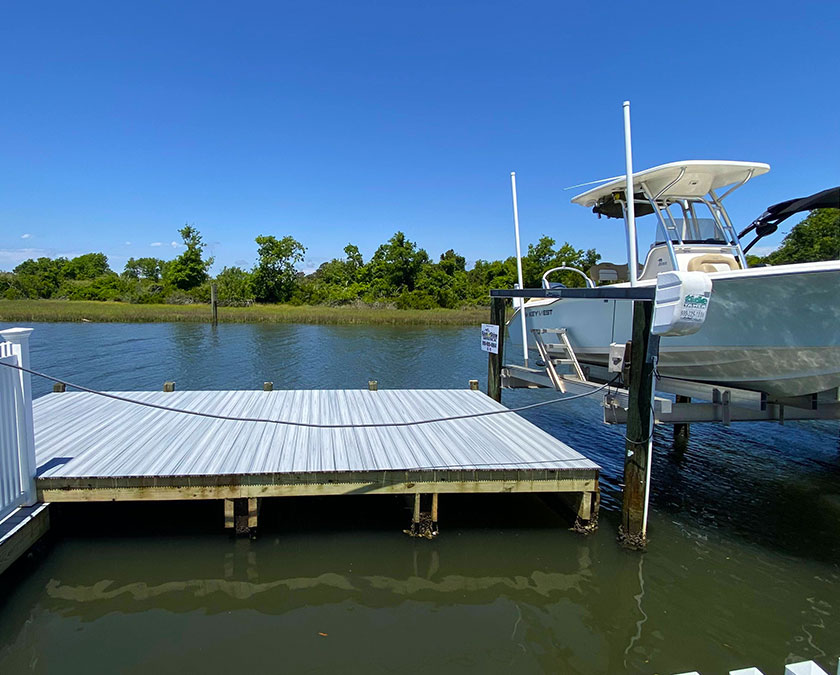 Keep Your Assets Safe And Secure
A breathtaking view, fresh air, and having your own boat to take out whenever you want to feel the breeze are just some of the benefits of living by water.
But owning a boat can be expensive, and without a dock, you're always worrying about its safety. Dependence on your neighbor's dock isn't ideal either.
Imagine having a custom dock of your own! You'd never have to worry about the safety of your boat again. Whether you're a fishing enthusiast or someone who loves to cruise, having a dock that you can rely on is priceless. And if you already have a dock that's falling apart, we can help  resurface it and bring it up to the standard you deserve.
Enjoy Your Favorite Outdoor Activities With Ease
When you live in the countryside you get to enjoy all the advantages of nature as soon as you step out your door. And there's nothing more rewarding than spending quality time with your loved ones by the lake or maybe even by your private pond.
From swimming to camping to fishing – you get to do it all, and with a custom dock you can enjoy being by the lake like never before. Dive off the edge of the dock, fish comfortably while relaxing on a clean platform, and even secure your small fishing boat so it doesn't float away.
Instead of being trapped inside watching TV, get ready to plan your weekends by the lake and enjoy nature.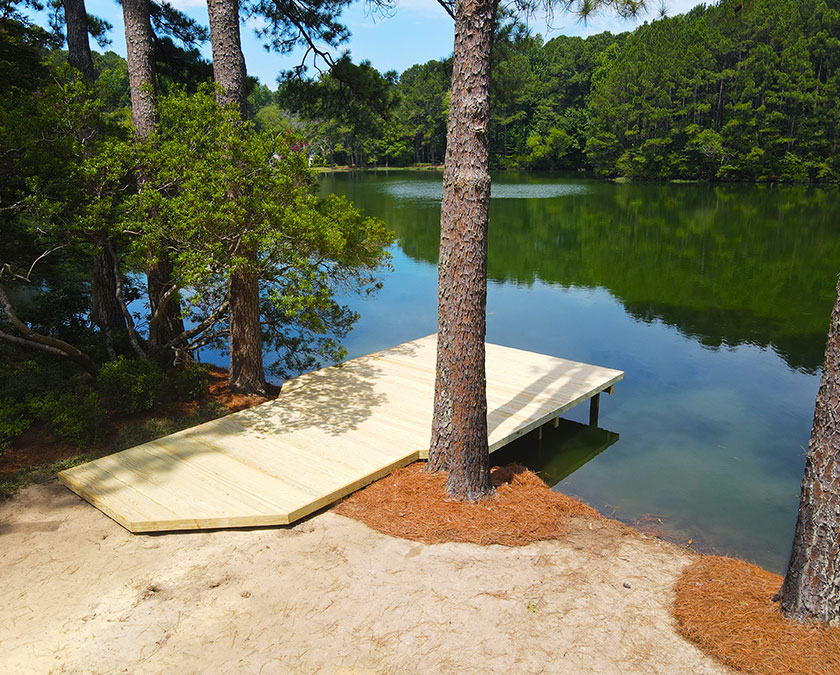 Your Private Dock In 3 Simple Steps
Experience a streamlined, hassle-free process and get a stylish new dock. It's time for you to stop putting it off and let us build you a dock that you'll enjoy for years to come.

Fill out our form and send us pictures of your current outdoor space or dock and pictures of what you have in mind for it.
We'll get back to you with a phone consultation to talk about your project, give you ballpark pricing, and schedule an on-site consultation.

During the on-site consultation, we talk about your vision for your dock in-depth, discuss how we can elevate it, and how we can make the most out of your budget.
We'll also inform you of the project timeline, keep you in the loop, and get to work.

Your beautiful dock is now finished. To make sure everything is perfect and just the way you envisioned it, join us in a post job walkthrough and let us know if anything comes to mind.
Once we are gone, take a moment to celebrate and enjoy your new dock.
How Much Does A Dock Cost?
No matter the size of your dock, you are guaranteed skilled craftsmanship and quality materials from start to finish. We serve all of NC for deck and dock construction.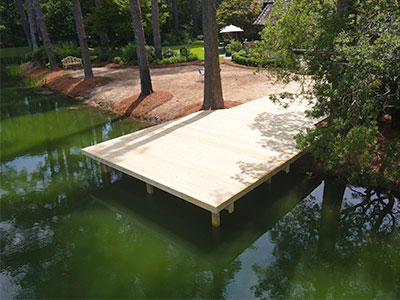 Includes constructing a 12x16 ft dock with pressure treated decking.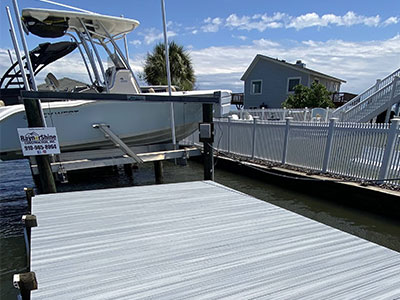 Average Dock Construction*
Includes constructing a 200-300 sq ft dock with composite decking, stainless steel fasteners, and boat cleats.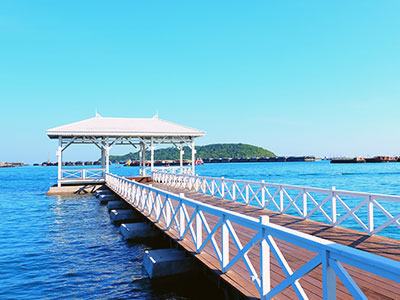 High-End Dock Construction*
Includes constructing a 200-300 sq ft dock with titan decking, stainless steel fasteners, covers for a portion of the dock, and a boat lift.
*Prices are averages and may change depending on the size of your dock and your choice of materials and finishes. You'll receive an exact quote for your unique dock project after the on-site consultation.
Learn About Us From Homeowners Like You
Customer satisfaction isn't optional for us. Through transparency and dedication, we aim to provide you with an experience you can enjoy and will remember with a smile on your face. Take a look at what our clients say about our workmanship and how they experienced working with us.
He does exceptional work. Highly recommend him.
I had some flooring work done by this company. They were very professional, did exactly what they agreed to do, and made sure I was completely satisfied with them.
They do outstanding work !!!!! Branson Raynor and his crew were a pleasure to work with.
I highly recommend them and will for sure use them again in the future!!! Lynn Ruark
Very detailed in his work. Leaves site clean. Takes pride in his work.
Enjoy Fresh Air In The Safety And Comfort Of Your New Dock