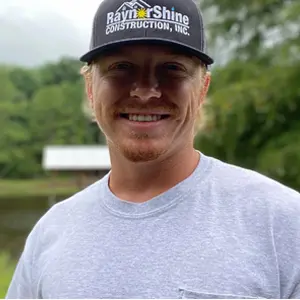 Let's Unlock Your Backyard's True Potential
Hi, I'm Branson Raynor, owner of RaynorShine Construction. My goal is to help you transform your backyard into a place you'll never want to leave.
We specialize in designing and building outdoor structures such as decks, docks, and boathouses that provide both aesthetic appeal and functional living spaces. From hosting dinner parties to simply relaxing with a glass of wine, the possibilities for enjoying your new outdoor space are endless.
Let's work together to unlock the true potential of your backyard and make it a space everyone will fall in love with.
Jessie Mangum, Google Reviewer
Beautiful work done in a professional and timely manner. Very impressed with the attention to detail and friendliness of their employees.
I am going to recommend them to all of my friends and family!
Take Your Lake Experience To The Next Level
You'll never want to live without a dock once you have your own.
They have so many benefits you almost can't say no to getting one. Dock fishing is way better than fishing from the shore. You'll have a private place for your boat, somewhere to go when you want to swim, and more.
If you already have one, but it's older or falling apart, you can always give it a facelift! Then you can get back to loving the lake life again.
All it takes is a little love, care, and woodworking to take your lake experience to the next level.
Let us help you get there.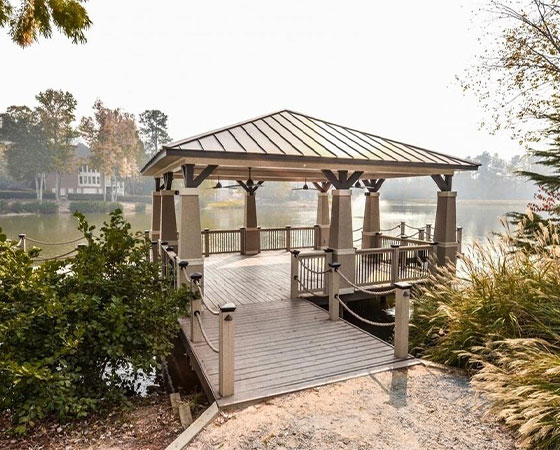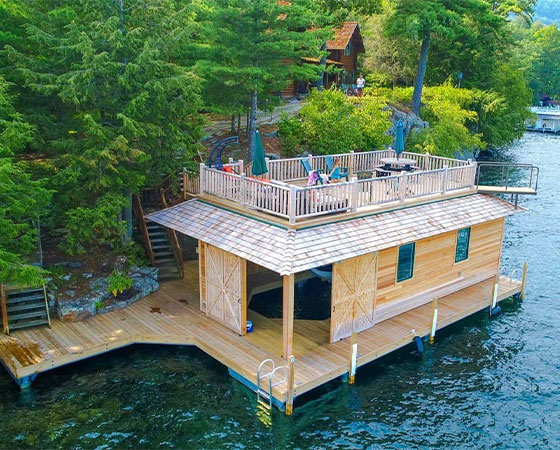 A New Space For Your Home And Your Boat
A boathouse is the best investment to make if you have a boat or after buying one.
You'll be protecting one of your most fun, and possibly most expensive, investments.
You'll also have an increduble new space to enjoy!  It can be your private retreat when you need some me-time. You can also host people down by the water for dinner, fishing, or just hanging out.
This is one of the best ways to truly enjoy being a boat owner.
Let's create a wonderful new space for your home and boat.
Whether you want to elevate your home with custom carpentry, or enhance your outdoor experience with a new deck, dock, or boathouse, we're passionate about serving you.
Your Perfect Outdoor Space In 3 Steps
From concept to completion, all you have to do is share your vision with us. We'll take it from there and build you an outdoor space you'll love.

Fill out our form and send us pictures of your current space along with pictures of what you want to achieve in it.
We'll schedule an on-site consultation to talk about your vision, needs, and budget

Once every detail of your project is set, we put it on the schedule, order materials, then get to work.
We keep you updated and in the loop with each milestone and answer any questions you may have.

Your beautiful space is now finished. Before we leave, make sure everything is perfect and join us in a post-job walkthrough. 
Then, you and your loved ones can start enjoying your brand new space.
Here's What Happy Homeowners Like You Say About Us
Customer satisfaction isn't optional for us. Through transparency and dedication, we aim to provide you with an experience you can enjoy. Take a look at what our clients say about our workmanship and how they experienced working with us.
I had some flooring work done by this company. They were very professional, did exactly what they agreed to do, and made sure I was completely satisfied with them.
They do outstanding work !!!!! Branson Raynor and his crew were a pleasure to work with.
I highly recommend them and will for sure use them again in the future!!! Lynn Ruark 
Had a fence installed about a year ago great company to work with…
Well, my neighbor ran slam into my fence twice with his Tahoe and the fence held up with zero damage, unfortunately my security light pole did not…
anyways get a fence installed by RaynorShine… they'll hold up to just bout anything!
Quality work, gets the job done when he says he will. No complaints whatsoever and would recommend to anyone.
Transform Your Home And Property Into Everything You've Always Wanted