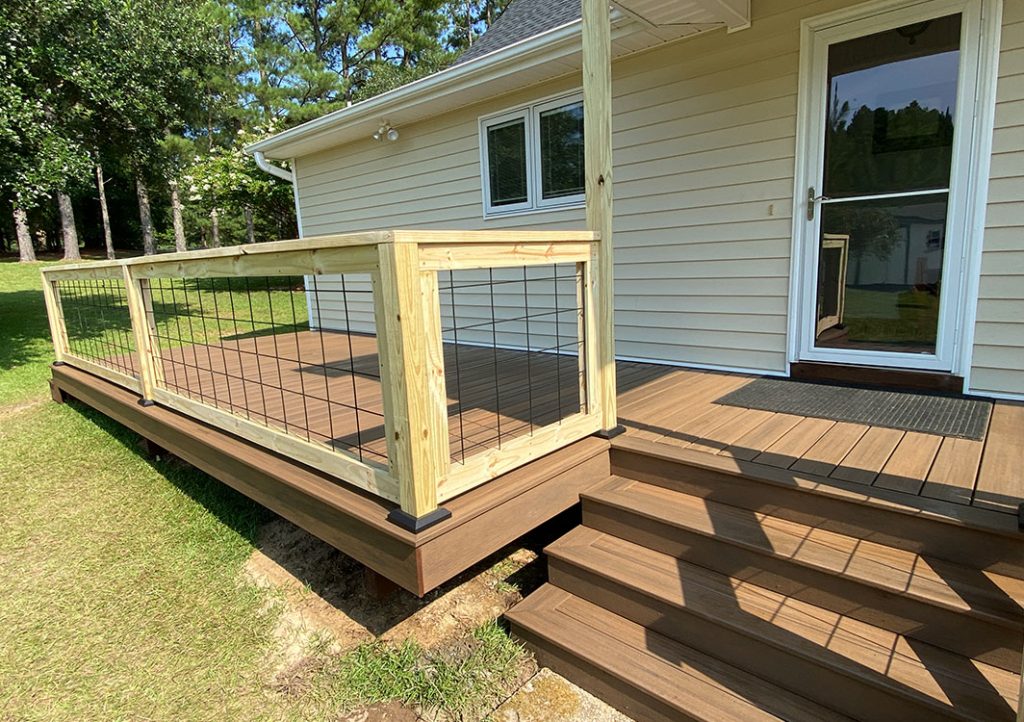 Lumber and wood shortages force homeowners to look at different materials for their decks. One popular material is composite decking. Composite decking materials are a great alternative to wood decking due to their durability, cost, and range of options.
The team at Raynor Shine Construction is here to tell you everything you need to know about composite decking. We will explore composite decking options and talk about how you can make your dream deck for your yard!
Feel free to call us if you have any questions about decking brands and manufacturers. We look forward to hearing from you!
What Is a Composite Deck Board?
Composite decking is an alternative to traditional wood decking and consists of a combination of synthetic and natural elements. Composite decking materials typically consist of a mixture of wood fibers, plastic, plastics, and other additives.
Contractors use two primary types of composite decking:
Uncapped Composite Wood
Capped Wood Composite
Both types of decking have a similar composition and use the same materials. The main difference is that capped wood composite features an exterior plastic shell. This shell offers enhanced protection against moisture, mildew, and the elements.
Homeowners favor composite decking because it is cheaper than wood and provides excellent durability and flexibility. Moreover, wood shortages across the globe make composite deck boards a more feasible option for decking.
Composite Vs. Wood Decking Materials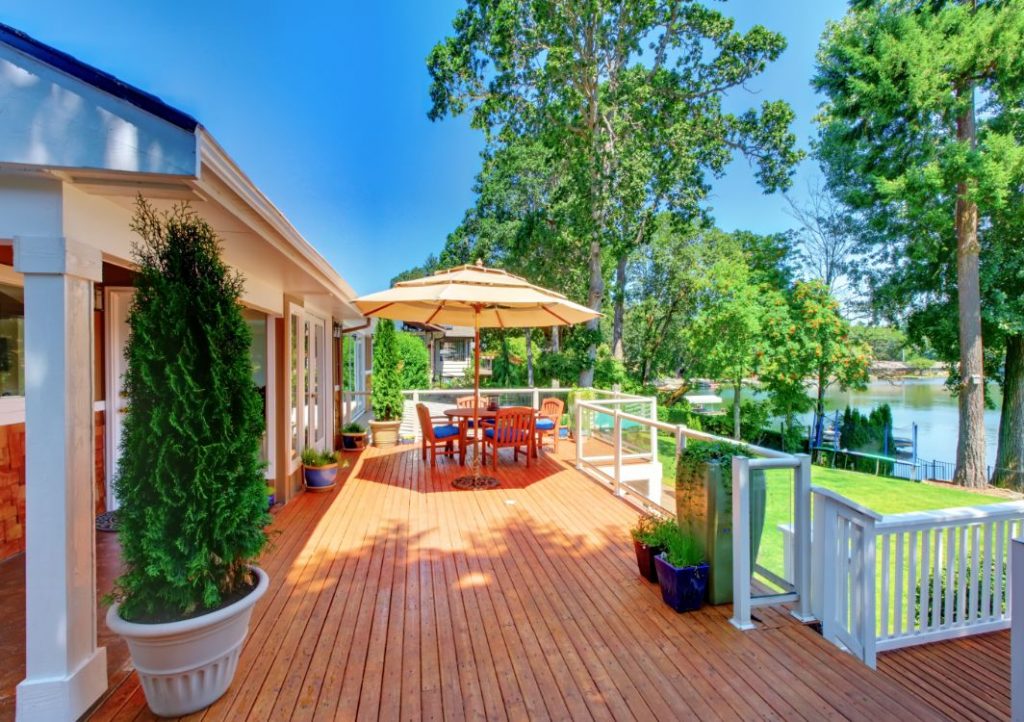 Most decks feature a wooden base for the main structural element. You can then add wood or composite paneling on top. Below are some points of comparison between the two decking materials.
Appearance
Most homeowners prefer genuine wood paneling due to its warm and rustic appearance. Older versions of composite decking lack the luster and body of real wood, but modern composites are more advanced.
New composite materials can mimic the appearance and style of whatever wood you want. Composite materials will also not fade as quickly from UV rays and heat.
Moisture Protection
Composite material typically offers better protection from moisture and mold than wood. Composite paneling has a plastic shell covering the underlying wood materials, sealing it from the elements.
You can treat wood decks to seal out water, but that costs extra time and money. With composite paneling, you get excellent moisture protection immediately.
Maintenance
Composite deck panels are also easier to maintain than wood. You do not need to stain or paint composite decking, and you can wash it with the most common deck cleaning substances. All you need to do is periodically sweep and hose down your deck to keep it looking fresh and new.
Pest Control
One of the best features of composite decking is pest resistance. Composite decking is virtually immune from infestation, unlike wood decks, which can become home to termites, ants, carpenter bees, and beetles. Pests can destroy your wood deck, making composite decking a safe choice to protect your investment.
Pricing
Wood decking can be cheaper to buy and install than composite decking, depending on the demand for wood products in the market. However, composite materials can be more cost-effective in the long run.
Composite decking has low maintenance costs, and you do not need to paint or stain it. It can also last longer than traditional wood.
Trex Decking
Trex decking is a special type of composite decking from the Trex Company, which first unveiled the product in 1996. Trex decking is unique due to its manufacturing process as it uses recycled materials for 95% of its construction and provides an attractive and eco-friendly surface element for decks.
Trex decking is also very flexible compared to traditional wood decking. You can cut Trex decking panels to fit the dimensions of any wood surface and provide a non-slip surface for foot traffic. In addition, Trex decking is so easy to work with you can DIY install portions of it without a professional.
However, Trex decking is for surface application only. It is not a load-bearing material, so you'll have to add it to your already existing deck structure.
Trex Decking Cost
The cost for Trex decking depends on your location and contractor. However, Trex decking costs about the same to produce and install as traditional wood paneling.
The main benefit is maintenance costs. Trex decking requires significantly less maintenance than wood decking. As a result, you can save money in the long run by switching to composite Trex panels for your deck.
How Long Does Composite Decking Last?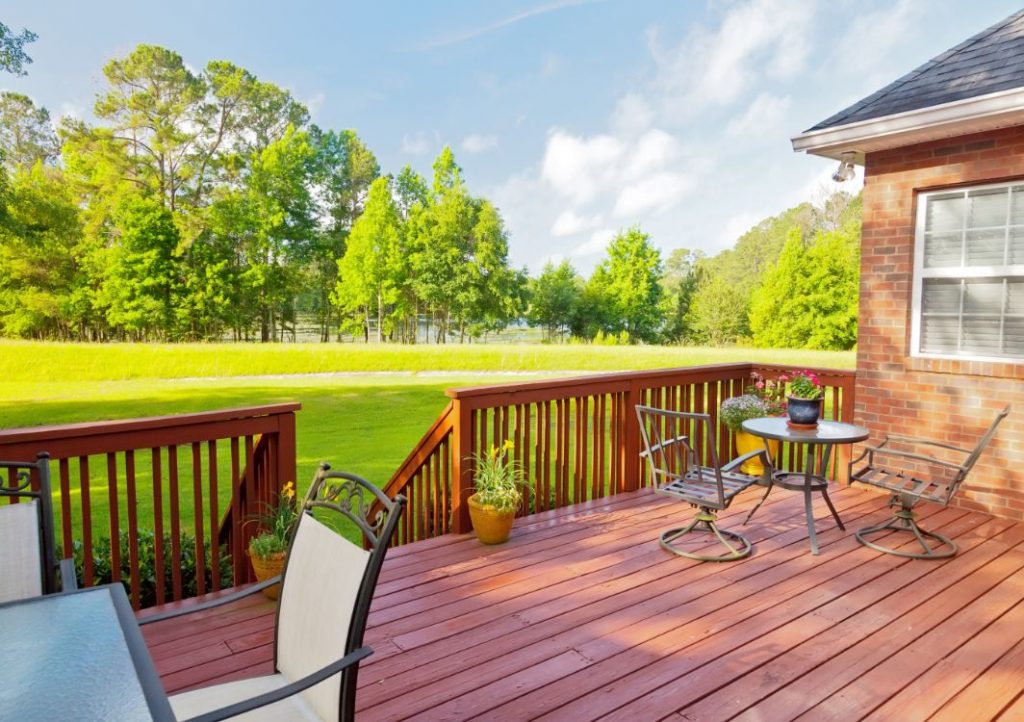 One of the best reasons to consider composite decking is its lifespan. A high-quality composite deck can last upwards of 30 years—potentially longer if you frequently wash and sweep it.
Below are some quick tips on extending the lifespan of your composite deck.
Remove standing water quickly. Composite decking is water-resistant, but standing water can penetrate the inner layers of the material. It is essential to  redirect water spouts off your deck. 
Sweep your deck frequently. Granules and debris can settle in board gaps, causing friction and loose panels over time.
Watch out for harsh chemicals. Caustic substances like bleach can partially dissolve the plastic shell on sealed composite, causing it to lose its luster and protective properties.
Be mindful of heat sources. Heat from something like a dryer vent can cause the synthetic materials to break down faster than normal.
Use gentle bristles for scrubbing. Stay away from materials like metal brushes or steel wool, as these can scratch the outer layer and ruin its integrity.
If your composite decking board is having problems, call an expert today for repairs!
Contact a Decking Specialist Today!
At Raynor Shine Construction, we dedicate ourselves to 100% customer satisfaction. We have experience serving North Carolina for several years and helping countless homeowners construct their dream decks. When it comes to your home, don't settle for subpar service—choose Raynor Shine Construction instead!
Interested in exploring composite decking options? Contact us online and we'll talk about your deck project!