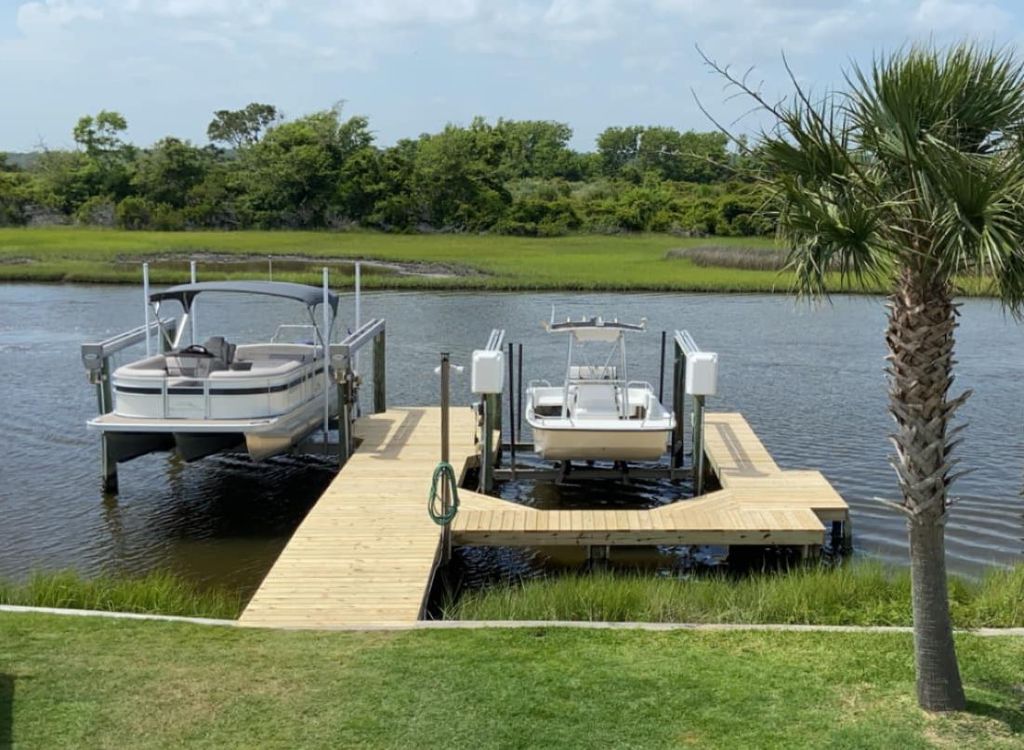 Building a dock is a fantastic way to have more fun with your waterfront property, whether it's for boating, swimming, or just having a place to relax outdoors.
Consider your experience and handyman skills before building a new dock. Those with the time and budget can build a dock from scratch or buy a kit. DIY dock kits have gained popularity with their easy-to-follow instructions.
If you want to build a complete dock and need professional help, contact RaynorShine Construction Inc. Buying the materials and building the dock yourself may not save you money.
This article will discuss how to build a dock and safely complete your dock project.  
Step 1: Inspect the Lake Bottom and Shoreline
Depending on your lake's bottom and shoreline, you may need assistance with the dock design, layout, and installation. Before choosing a dock, you should learn about the water depth and tide patterns. Generally, sandy and flat lake bottoms allow you to build the dock without hassle.
The inspection will determine the best dock for your waterfront.
Step 2: Design Your Multi-Purpose Dock
Many people believe that building a dock requires owning a boat. However, even without a boat, docks provide a great spot for fishing, relaxing, and hosting parties. If you love to swim, a dock offers a more convenient way to jump into the lake.
A well-constructed dock can boost curb appeal and add value to your waterfront property. Buy accessories such as dock bumpers, solar lights, furniture, and paddleboards to make your dock more enjoyable.
Step 3: Choose the Type of Dock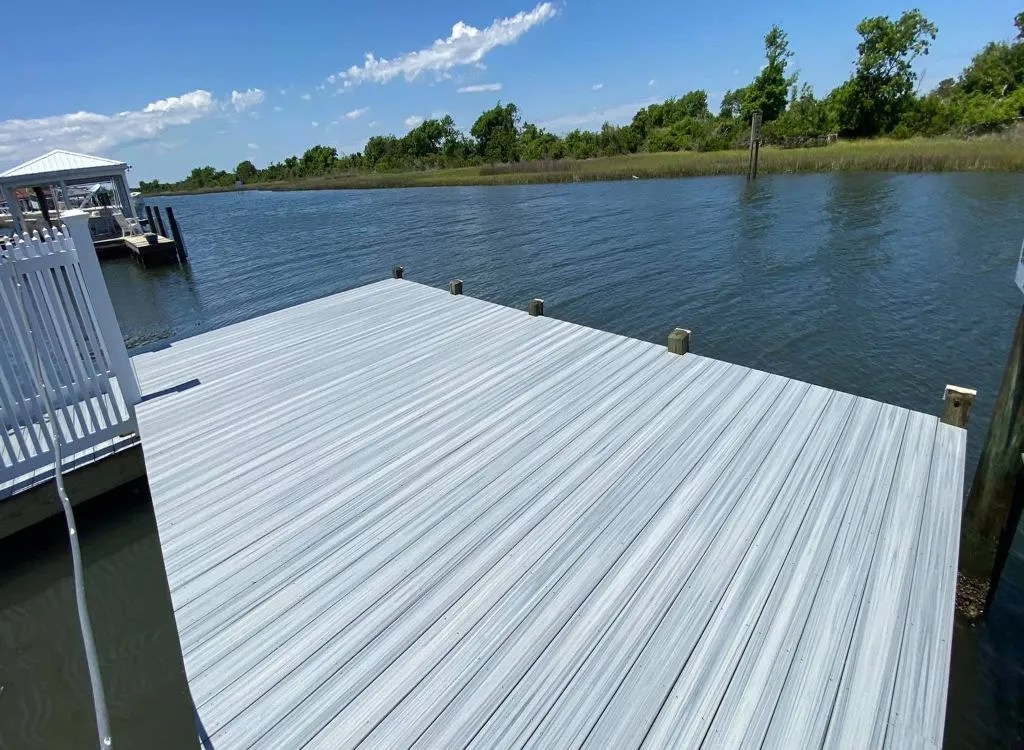 The type of dock you choose depends on your needs and preferences. Different types of docks have their advantages and disadvantages.
Floating docks: Floating dock systems remain the most popular type, with easy installation and support for various water conditions. These docks anchor to the shoreline and lake bottom but float on the water's surface and aren't too hard to move
Stationary docks: Fixed docks remain permanently installed in one location. The docks use wood and concrete for better stability
PWC docks:  Personal watercraft (PWC) docks work best for people with personal watercraft. These docks have aluminum or plastic materials with a ramp for easy access
Step 4: Choose the Right Hardware and Materials
To build your dock, you need treated wood and galvanized screws, bolts, and nuts. Avoid using ordinary nails for wooden docks. Always use hardware that provides corrosion resistance.
Next, choose one of the materials for building docks. We recommend using aluminum for the framework and plastic for decking. Compared to wood, lightweight aluminum offers durability and weather resistance.
Before building a wooden dock, check the local regulations regarding the lake. Some municipalities prohibit the use of chemically treated wood to prevent water contamination.
Step 5: Draw Plans for the Dock
Before constructing your new dock, check the local ordinances and zoning regulations. You may have to pay fines or tear down the dock if you violate the law.
The dock should provide at least a few feet of water depth to store a boat. Consider the required water-to-depth ratio while building the dimensions of your dock. For example, on a 60-foot dock, the outermost 40 feet may remain usable while the other parts serve to move past shallow waters.
A well-planned dock and using the right dock ideas will help you get full use of your waterfront property. In shallow locations, consider dredging to increase the depth. Alternatively, you can extend the dock If you have the budget. 
Step 6: Consider the Weather and Boat Traffic
Wind and waves can push your boat away from the dock. Add L- or T-shaped extensions to your dock if the wind blows at your shoreline and catches waves from passing boats. These extensions can make your dock more stable.
If your lake freezes, your dock must have a winter plan. You should consider building a removal dock system if you cannot visit your waterfront property periodically for inspections. Floating docks are easy to remove and store for the winter. In other cases, you can purchase an ice eater.
An ice eater uses a large electric motor with an underwater propeller to pump warm water around your dock to prevent ice from forming. The system uses advanced controls, including a thermostat and timer that circulates warm water.
Step 7: Dock Installation Process
Read the instructions carefully before building the dock. Ensure that you have the necessary tools and materials before you begin. Don't forget to wear protective gear, including gloves and masks.
Use caution when drilling holes into the dock. For the dock to attach securely, the holes must align perfectly. Follow the instructions to ensure a safe and successful installation.
A heavy machine such as an excavator or piledriver can help install your dock. Wood dock sections can weigh over 200 pounds. We recommend using lighter materials such as aluminum that weigh under 50 pounds.
Consider the water depth as it can make installation difficult. Most lake boats can dock in three to four feet of water. At this depth, the uprights will remain short and stable without additional hardware support.
Step 8: Install Dock Pilings
If your lake bottom has small rocks or shells, jetting offers the cheapest method for installing secure dock pilings. Jetting involves blowing a deep hole in the lake's bottom using a high-pressure water pump. The pilings then fit into the holes supported by sand packs.
If your lake has a muddy bottom, use the hammering process. The hammering method forces rocks out of the way and removes a thin layer of clay. After reaching the required depth, you can install the dock pilings.
DIY Dock Project vs. Hiring Professional Dock Builders
If you plan to build your dock yourself, create a safe working environment and follow safety procedures. Need an expert? RaynorShine Construction Inc. can handle your dock project from start to finish.
Hiring an experienced dock builder remains a worthwhile investment that will build a dock that can last for years. Rather than spending your time and energy, let us build the perfect dock for you. Our team of experts can build innovative and functional stationery or floating dock systems.
Fill out our contact form today for more information on how to build a dock.